The World Laser Medicine Congress (WLMC 2019) was held from June 28 to 30, 2019 at the Taipei International Conventional Center in Taipei, Taiwan. The Congress combined a joint gathering of three major international laser medicine associations, namely, World Federation of Societies for Laser Medicine and Surgery (WFSLMS), International Society for Laser Surgery and Medicine (ISLSM), and the International Phototherapy Association (IPTA), organized by Taipei Medical University and Taiwan Laser Photonics and Minimally Invasive Surgery Association (TLPMSA) and supported by International Academy for Laser Medicine and Surgery (IALMS). In this Congress, there were worldwide leading experts from various fields of laser medicine and surgery gathered together to share brilliant clinical experiences and ideas as well as basic research.
The main theme of the Congress is "Laser Medicine and Healthcare", that is, the application of advanced laser medicine to improve the healthcare of mankind. The WLMC 2019 is to provide an effective platform for the relevant specialists and professionals to exchange new research and knowledge in the field of laser medicine and surgery. There were approximately 800 attendees from more than 25 countries and regions, and 205 papers presented by 129 invited speakers in the Congress. Similarly, the exhibition has drawn more than 40 units in three days. It is worth mentioning that the Congress Organizing Committee was honored to have the Minister of Ministry of Health and Welfare of Taiwan (R.O.C.) – Prof. Shih-Chung Chen to address in the Opening Ceremony on June 29. The Hand-over Ceremony of ISLSM was also held at the same time.

(Congress Group Photo on June 29, 2019)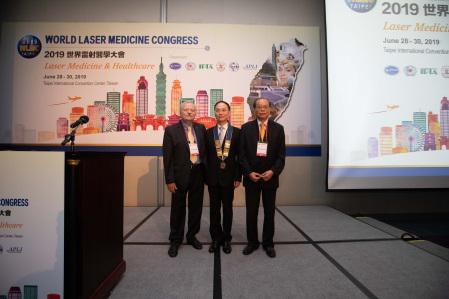 (New President of International Society for Laser Surgery and Medicine, ISLSM, Prof. Cheng-Jen Chang, MD, PhD, FACS)
Scientific Program
In the WLMC 2019, the scientific program was informative and interactive which consisted of 5 Keynote Lectures and 40 Symposia in three days. These included topics from Basic Research, Dentistry, Dermatology; Plastic Surgery, Gynecology, Neurosurgery Surgery, Ophthalmology, Otolaryngology, Urology as well as Nursing. In addition, there were also sessions for International Society of Refractive Surgery (ISRS), and Asian Pacific Laser Institute (APLI) conducting on intensive microscope hand-on workshop for the practicing dentists as a pre-congress training program and Cross-strait academic sessions which made the Congress much more fruitful.
Social Program
Regarding the Social Program, there were a small but warm Faculty Dinner and an interactive Gala Dinner featuring Taiwanese aboriginal culture. Moreover, with the support from Laser Medicine Education and Research Foundation, the Organizing Committee set up 6 Best Paper Awards from 40 papers to encourage exemplary specialists to keep on making contributions to the field of laser medicine and surgery.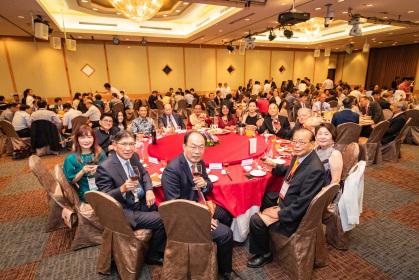 Social event of Gala Dinner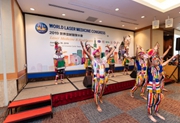 Aboriginal dance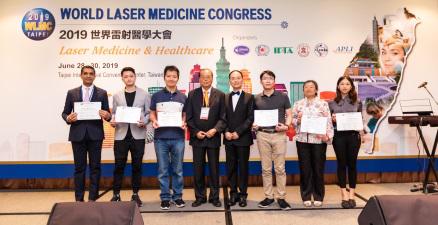 Best Poster Award
(Group Photo in front of 101 building)
In the WLMC, the Executive Committees and the General Assemblies of IPTA, ISLSM, WFSLMS and IALMS were also held where some important decisions were reached:
The President of IPTA is Prof. Abraham Arimuko, M.D., who will replace Prof. Cheng-Jen Chang from Taiwan.
Prof. Cheng-Jen Chang replaced Prof. Leonardo Longo as President of ISLSM
Prof. Sharon Krishna is the Secretary General of ISLMS.
Ratify Prof. Toshio Ohshiro named as Honorary President of ISLMS. The certificate will be presented to Japan by Prof. Cheng-Jen Chang from Taiwan.
Prof. Toshio Ohshiro stepped down, and Prof. Leonardo Longo was named as Life Secretary of the WFSLMS, Prof. Narong Nimsakul and Prof. Takafumi Oshiro as the Assistant General Secretory of WFSLMS.
They were also decided locations and times of the next Congresses:
Next Congress of IALMS will be held in Jerusalem organized by Prof. Leonardo Longo in 2020.  Prof. Leonardo Longo has invited the APALMS to joint in. The APLMS will be organized by Prof. Abraham M. Baruchin. This Congress is orgnized with the support of the Jerusalem Convention & Visitors Bureau, represented by Anat Landa.
Next Congress of ISLSM, IPTA and WFSLMS will be held in Jakarta in 2021, organized by President elect of ISLSM, Prof. Abraham Arimuko, M.D.. The congress in 2023 will probably be held in Toronto, Canada by Prof. Victor Yang, M.D., Ph.D. Prof. Leonardo Longo will be the key-person to coordinate.
Conclusion
It was the first time that Taiwan had the chance to host a joint gathering of three major international laser medicine associations. The Honorary Congress President Prof. Ming-Chien Kao, Congress President Prof. Cheng-Jen Chang and the Organizing Committee were honored to hold the Congress here in Taipei. The success of the Congress not only drew on the plentiful scientific sessions, but also on the interactions and mutual exchanges of the participants from all over the world. The Congress also gave professionals in the field of laser medicine and surgery in Taiwan a fantastic opportunity to absorb new knowledge and to make advancement on their careers. Moreover, the Congress is a good opportunity to improve the friendship and lasting cohesion of our laser family around the world. Last but not least, from this event onward, one anticipates that the field of laser medicine and surgery will be more robust and prosperous in the future.
WLMC 2019 is a great gathering for "Laser Family". Where everyone may appreciate this platform for continuing our friendship.
Looking forward to seeing you in Jakarta, Indonesia, 2021!
Acknowledgement
The authors express their gratitude to the Recorder of General Assembly, Dr. Tsan-Husan Chang, MD, for his contribution to the meeting report of WLMC 2019.